My theatre career began in the fall of 1990 at the now closed 'High-School for Theatre and Music' on the isle of Aerø, on the theatre line.
I soon found out that I was unfit to stand on a stage and say lines. In return, I discovered a new technical and creative side of myself. I ended up being responsible for the lighting and stagedesign and transport, during the tour to three other High-Schools. I managed to build 3 set designs, among other things, in collaboration with Jan Fogt.
Two years later I contacted 'High-School in Svendborg', where I had the opportunity to write a course for one year. I found a teacher in light and set design (Karl Knudsen) and made a large Christmas play in Langå, toured with Lars Lilholt, designed light to a play at the theatre 'Får 302' in Copenhagen, a month lightning-internship in DR's TV City and three smaller and two larger setups in the High-School's auspices in collaboration with Lars Illum. Additionally, I ensured evaluation of my course.
Since then, I have regularly been involved in large and small settings, local and private events. Also music, dance and fashion shows, I have experience with. In a number of performances, there was live music and song.
Photos from 'Trodtøjet' (2009)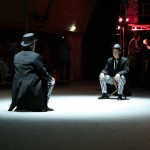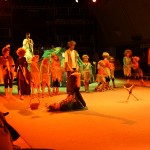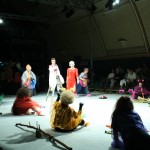 Since 2007, I am the regular lighting designer at Haslev Festival. Here I designed the lighting settings of 'Gøngehøvdingen', Troldtøjet' and 'Aladdin', under the instruction of Niels 'Peregrine' Andersen.
In autumn 2013 it will be a renewed version of Holger Drachmann's 'Der var engang'. And not only the script is renewed, because we are also playing somewhere new ('Haslev Hallen' instead of Ridehuset on Gisselfeld) under a new director (Steffan Sommersted).
The last five years I have been a member of the Haslev Festival board of direction.
In 2006 I was acting as a director of a local theater group and directed 'Mother in law with discount'