Let me introduce myself.
My name is Ruud Barbier, I am a 57 year old multi-person, and I come from Holland. In 1987 I moved to Denmark and has lived in Lundby since mid-2006.
My education is characterized by versatility as stated in my resume. Since I was 13 years old, I have worked with nature, most amateur ornithologist but also with nature conservation and stuffing the dead birds, which we found around and about. In addition, I have worked on a bird hospital until 1976.
From 2007 to 2013 I have studied natural historic conservation at 'The Royal Danish Academy of Fine Arts, Schools of Architecture, Design and Conservation (KDAK), School of Conservation'.
I obtained a Bachelor's degree (bach. scient. cons.) in June 2010, and a Master's degree (cand. scient. cons.) in september 2013.
In August 2011 I started my company, 'DANAKONS – The Flying Dutchman' and in December 2011 I got my license as a zoological conservator.
I've been a self-employed landscaper from 1994-2002, where I did a lot about costumer consult and design of new gardens, as well as up-dating my knowledge of new products, materials and working methods, through various courses This is also showing on my CV.
In addition, I have made wooden sculptures, natural playground-equipment and wooden furniture of own design. I handle most types of tools and machines (including excavators up to 3.5 tonnes) and I like creative crafts.
As a self-employed person, I have often had to find many acute creative solutions to many different types of problems.
Since 1990, I have regularly worked with theatre technique, partly as light and sound engineer and, at the last, as set designer/lighting designer and, in a few cases, also as a production assistant and instructor.
Employment has mostly been a freelance or volunteer.
Tree skulpture of Pine trunk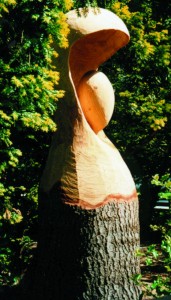 Click here for more info on:
Education
Working life
Spare-time interests